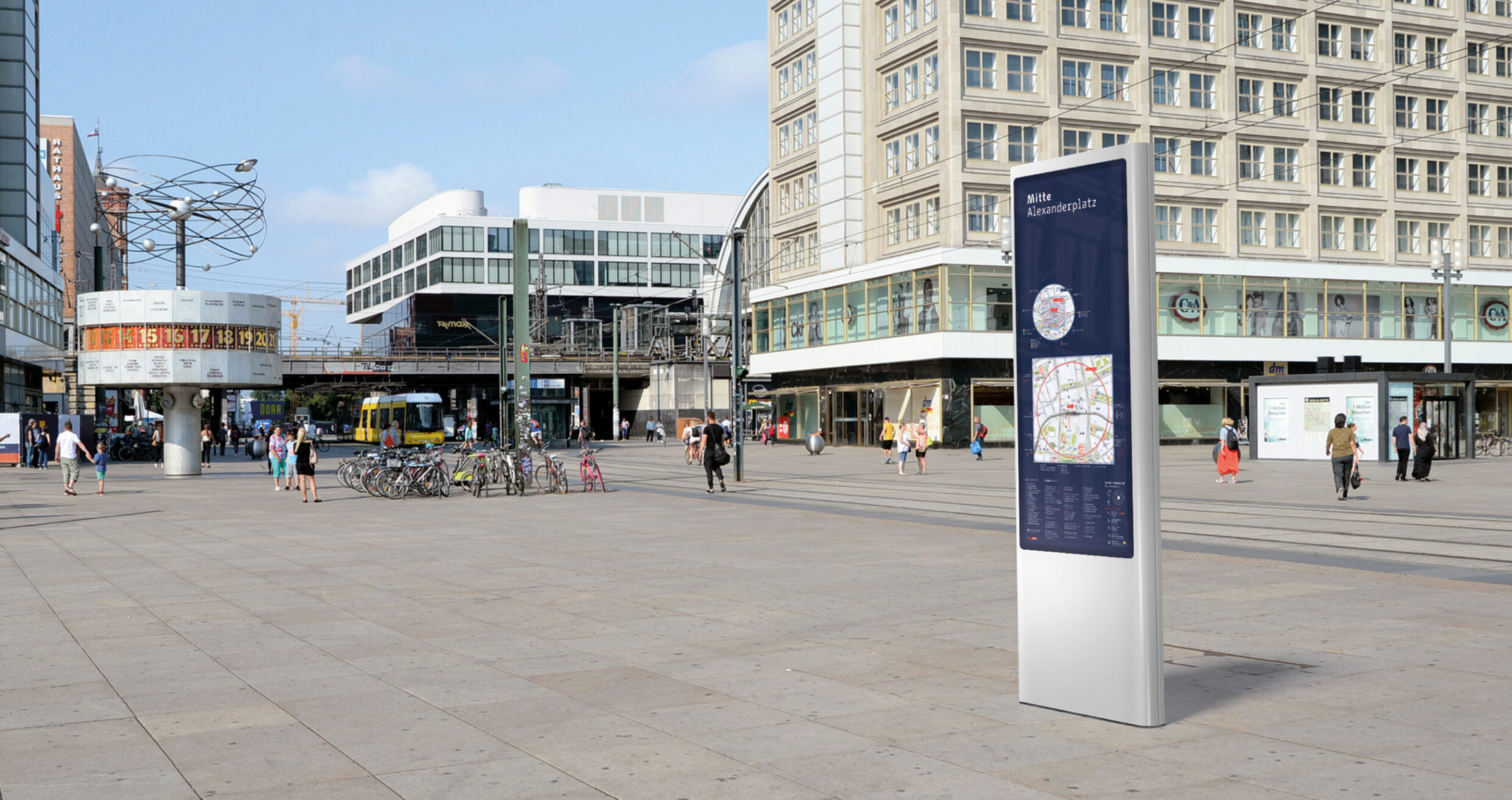 Senate Department for the Environment, Urban Mobility, Consumer Protection and Climate Action
Competition Information stele – extension of the tourist route guidance system Berlin
Berlin is an attractive tourist destination. Many tourists come to Berlin to visit new and old places. The city of Berlin decided to install a pedestrian wayfinding system to the main tourist destinations throughout the cityscape. A three-part system consisting of an information stele, arrow signposts and object boards. Moniteurs was invited with 9 other agencies to the design competition, the basis of which was the comparative study conducted by Moniteurs, commissioned by the Grün Berlin Stiftung in 2016.

Moniteurs developed three types of stelae with maps of the surroundings, texts and images to complement the existing arrow signposts. An integrated guidance system and information concept for Berlin that connects history and the future, conveying a strong identity that gives visitors:inside the feeling of having arrived at the right place: You are in Berlin.
Senate Department for the Environment, Urban Mobility, Consumer Protection and Climate Action
Information stele – extension of the tourist route guidance system Berlin

2016 – 2017

Subject of the competition
Tourist information steles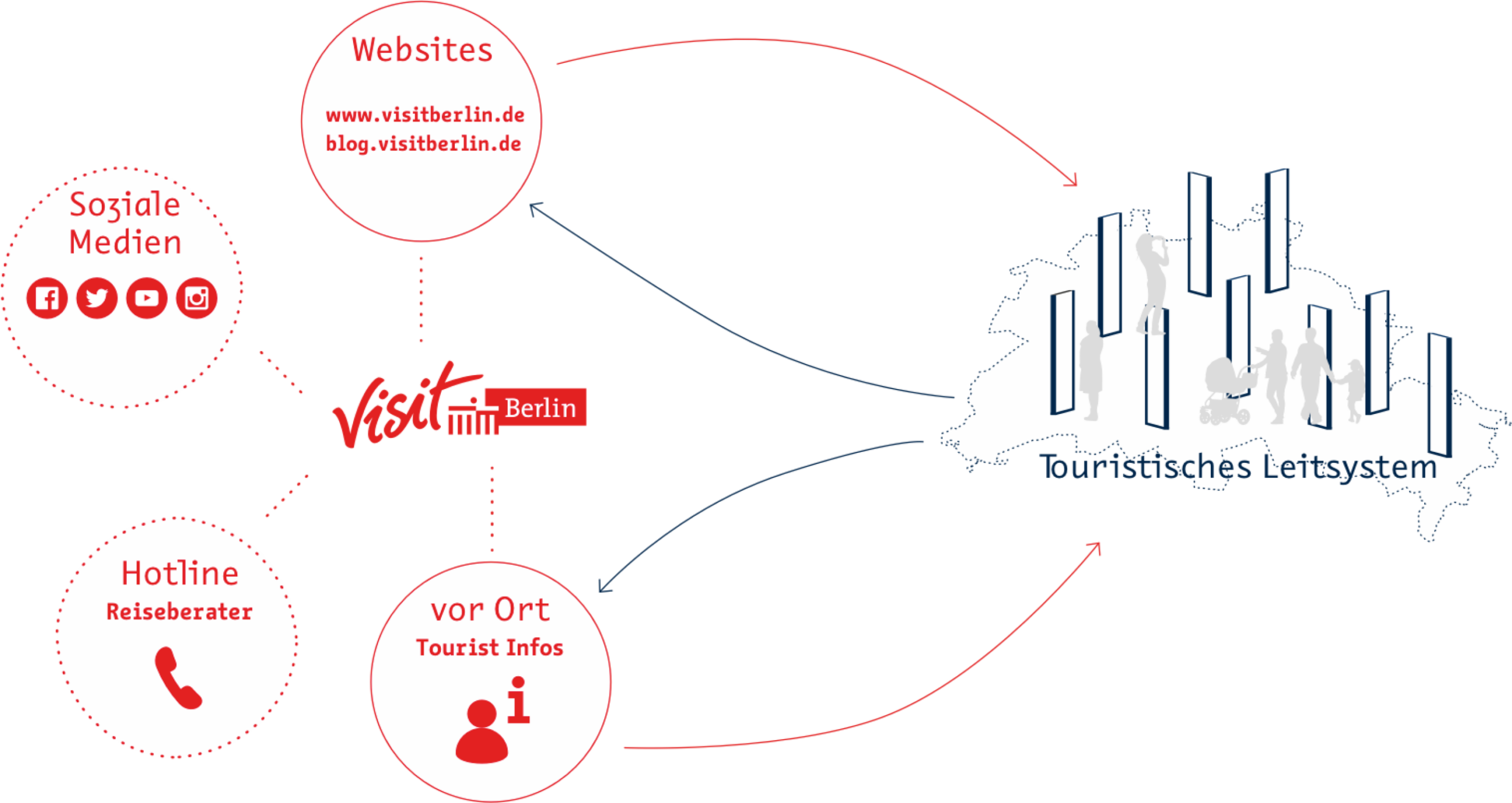 A central component of the information concept was the integration of existing information offerings by Visit Berlin, whose design elements, such as colors, can be found again in all information carriers.

The font chosen, BMF Change, is now strongly associated with Berlin in the public perception and has a much more independent character than the Arial used on the signposts. The very legible BMF Change is very well suited for a signage system with maps.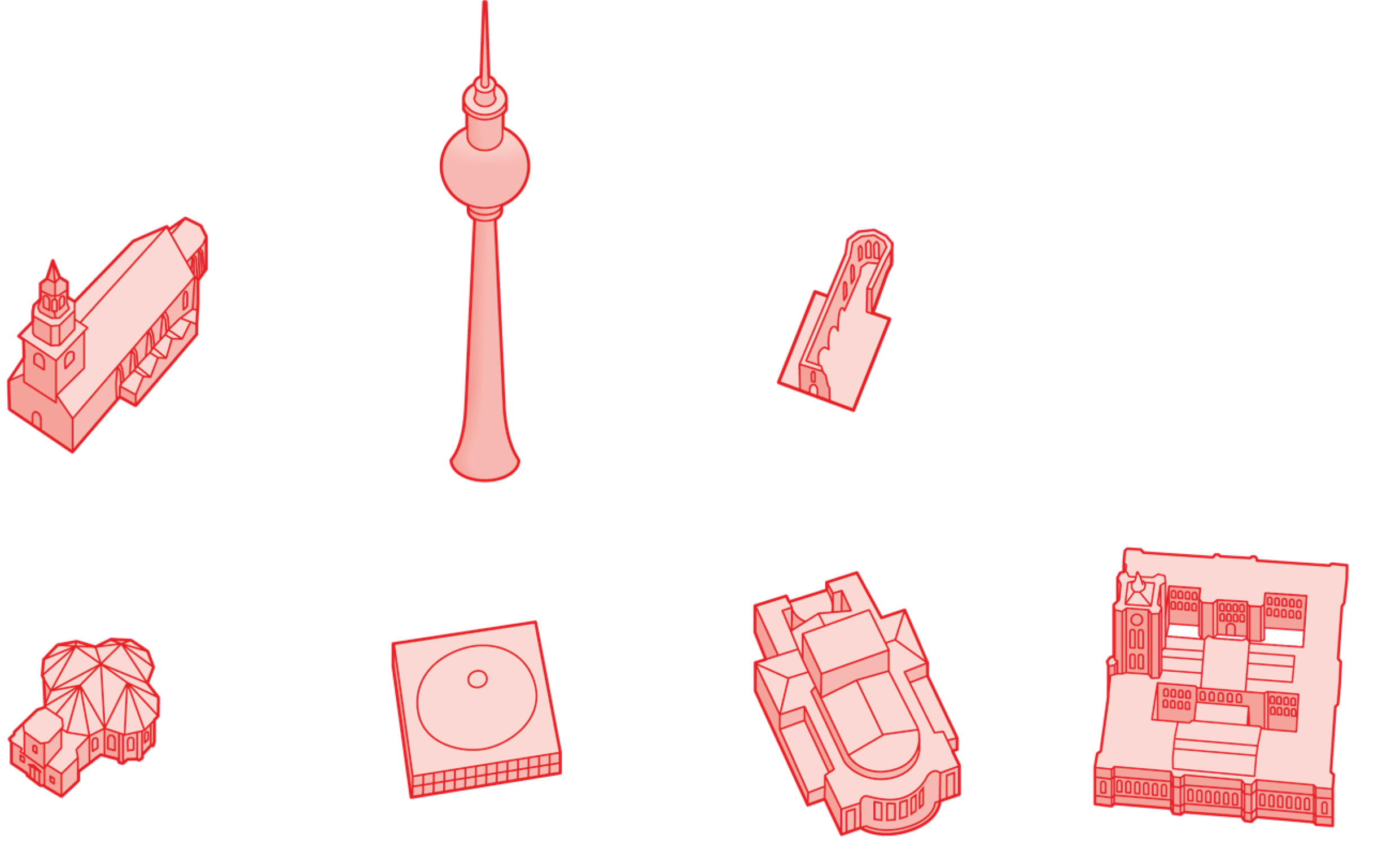 Landmarks
The most important landmarks are highlighted three-dimensionally in Berlin's corporate red. They can be aligned in perspective to any location.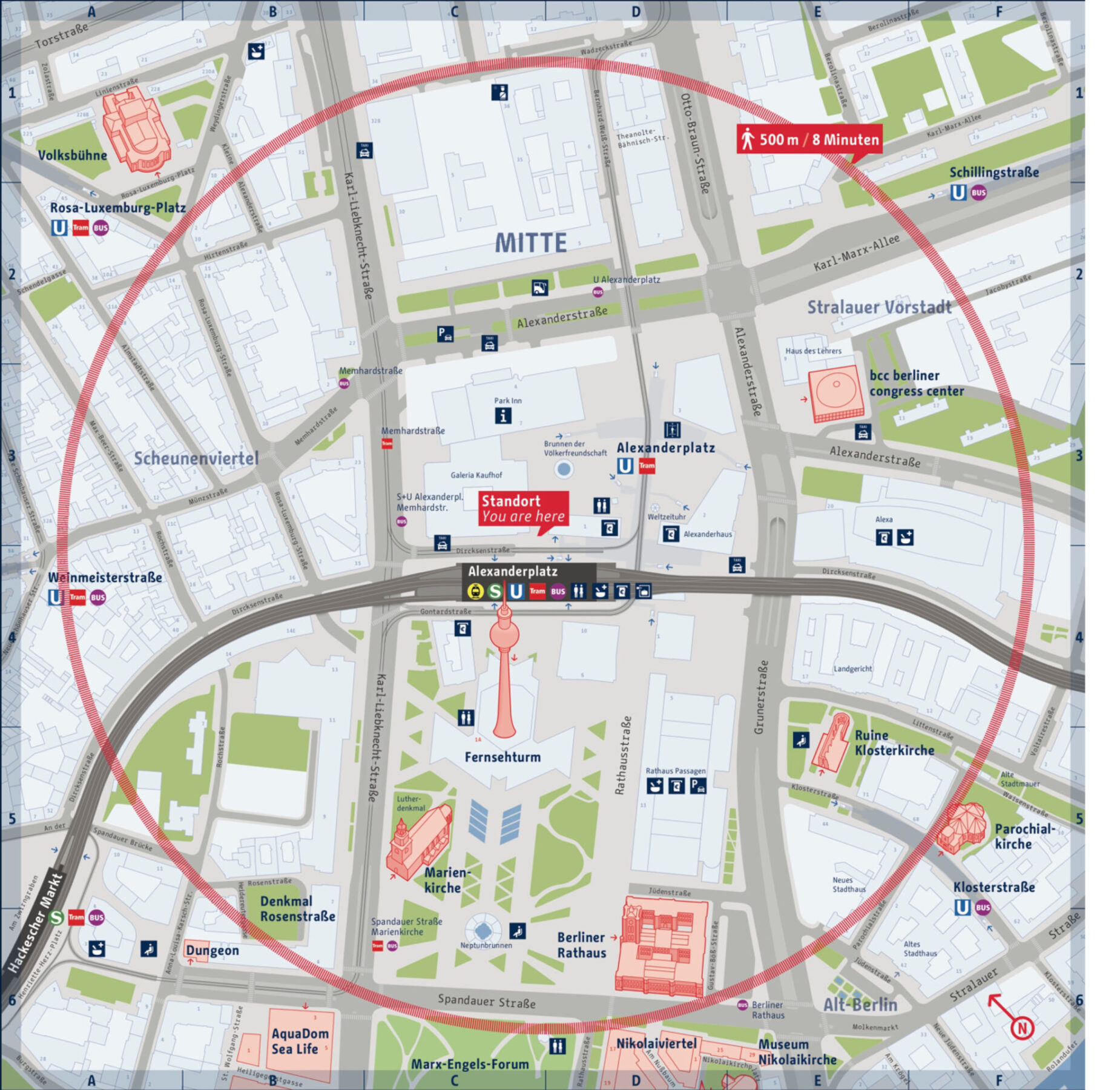 Maps
Each stele shows two maps based on ALKIS (GIS) data. The largest area is taken up by the square map of the surroundings; it shows the immediate vicinity of the site in great detail at a scale of 1:2250. The circular overview map helps to decide whether destinations can be reached on foot or by public transport.

Steles Material
Textile concrete is the material of the future; its reinforcement of carbon fiber mats does not corrode, is lightweight and thus very slender to work with. At the same time, the material is extremely durable, resistant and freely formable. Corresponding safety glass guarantees optimal information display in different light conditions.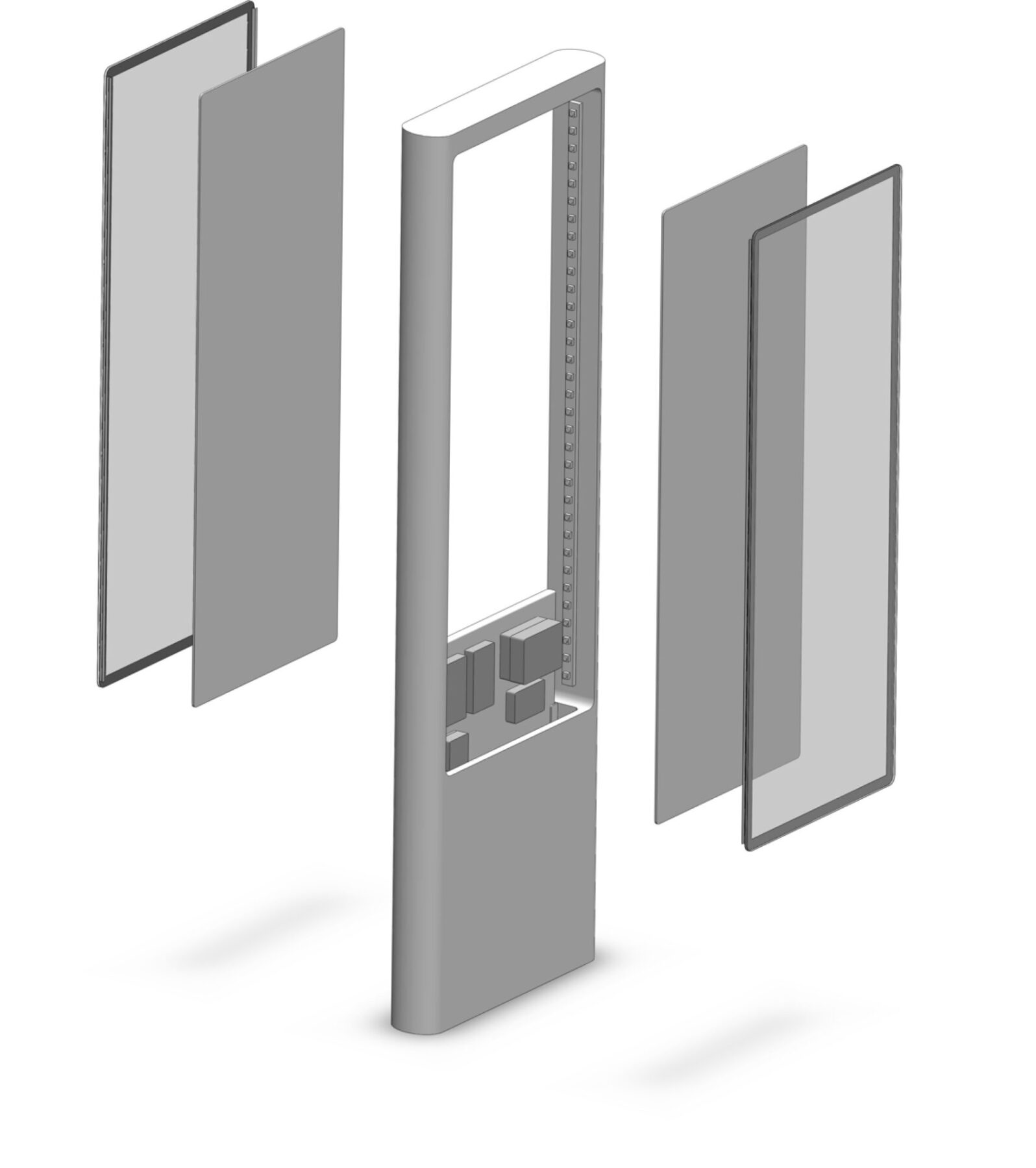 Steles construction
Materiality, form and construction principle are identical for the three types regular, slim and digital; they differ only in proportions and content.

The steles are a piece of contemporary urban architecture. In their design language, they refer to the typical Berlin facade image: a slim, high window in a solid, light-colored frame.